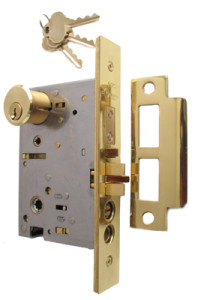 Whether you live in a custom built home or in a rented apartment, the need to keep you and your loved ones safe at all times cannot be overstated. A lot of us expect that the only persons allowed to enter our home when we are present or away at work should be the ones with rightful access to our home or apartment. Among all the residential lock and key hardware devices you can use to secure your home or apartment from intruders and burglars, the Mortise Lock stands out as one of such lock and key hardware devices that play an important role in providing 24 hour security for your apartment or home.
The mortise door lock is classified as a residential grade security lock that is often installed on the outside doors in our homes and is design in such a way that they provide you with the best chance of safeguarding and protecting your home from a break-in. Residential doors best suited for installing the Mortise lock are those whose minimal thickness should be at least 1-3/4 inches so as to match with the standard sized mortise locksets that are readily available on the market. When in use, the dead bolt portion of the mortise lock slides into the chamber hole, which is then received by the strike plate and enters the door frame – which is the actual point of locked engagement. Asides from the fact that the Mortise door locking system has a keyed entry point on the outside, it also comes with the typical latch mechanism that allows for a fast and easy exit from within your home.
As an extra means of securing your homes from intruders and burglars, always ensure that all exterior doors—including your French styled doors are equipped with a mortise locking mechanism. You can also provide additional reinforcements on your exterior wooden doors by installing a conforming steel strip at the locking area and at the frame of the door.
In as much as routing out a portion of the door and frame when installing the mortise may weaken the door, home security experts are still of the opinion that the mortise lock is indeed much stronger than the bored cylindrical locking system. As such, security experts often recommend installing sturdy doors and frames in your home that can accommodate the mortise lock.
If you recently moved into a new home or apartment and are concerned about the integrity of the current locks, you can contact an experienced residential locksmith Santa Clarita to review your home security system for possible changes or upgrades. To guarantee the security of your loved ones and your home, it would be best to replace weak or older door locking mechanisms with the more reliable mortise door locks through the help of an expert residential locksmith technician.